Are You Targeting The Right Audience? The Key To Conversions.

Before I do any online marketing I alway do some research to figure out my audience. You want to increase your traffic so you need the right audience.
This doesn't just apply to Facebook, it's always easier to know your audience before you do anything. What kind of visitors do you want?
I'm going to show you exactly how I do audience targeting in my niche before I start my adverts.
What I'm Going To Cover
Where I get my information on demographics
What angles I use to

sell affiliates

How I setup adverts for low post engagements
My mother load campaign selling a resort package at $5720 a piece
BONUS: How I Earn $1000+ A Day Online.... Get Instant Access to my FREE Training Course. (Register Here)
General Idea
The first thing I like to do is get a general idea on who I can target. This gives me a starting point then I can work off it when I start to advertise.
For this example, I'm going to use Quant Cast and gather some demographics in my niche… Luxury/Travel.
You can use Google Planner it also does the same thing.

I then click on a few websites and see the stats. Usually, I gather stats from 4-5 sites and create different facebook adverts based on them.

I'll base my adverts on the stats below.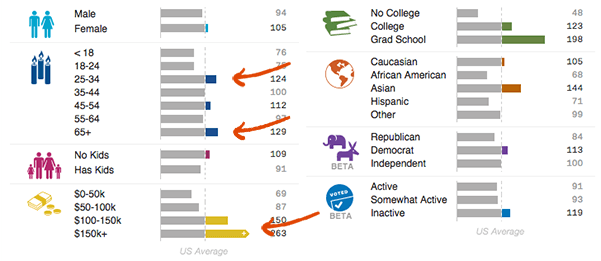 Now because I sell Luxury travel items I go back and do the same for Travel.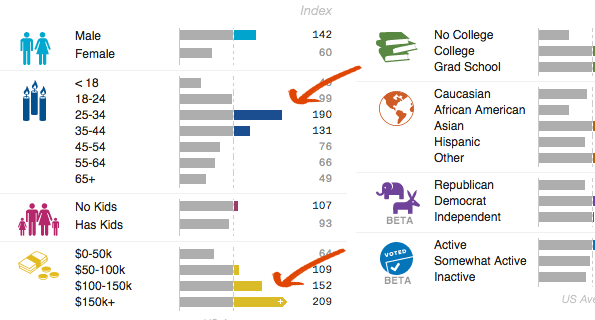 Stats
What does this tell me? It's telling me I have some good options. There is money here and I can run multiple facebook adverts.
What am I selling? This campaign ill be selling high-end hotels and resorts, from review articles that I get written for me.
Facebook
Now for the fun part, I'll show you 3 adverts I would use for audience targeting. I do a mix of CPC and Post Engagement. PE seems to convert better on some deals.
Product – Romantic Retreat In Westchester, Bedford Newyork.
Price – $637 a night regular price but affiliate price is $318.
Title
Need some time away with your partner? Stay at our stunning Romantic Retreat in Bedford.
==> Link
This weekend only we have 50% off. Call in sick on Friday, relax and enjoy the weekend in style.
Audience
New York
Men
Age 24-36
Interest Travel
In a relationship, engaged, married
Income $125-250k a year
Audience 10,000
Product – Canyons Resort, Colorado. Renowned for excellent fishing.
Price – From $696 a night depending on dates.
Extras – Breakfast for 2 every morning, 4 hour bike rental.
Title
Like to travel? Maybe a little fishing? Live like a king this weekend at Canyons Resort from $696 a night.
==> Link
Feast on a free gourmet breakfast for 2 every morning!
Audience
Colorado
Men & Women
Age 24-36
Interest Fishing and Travel
In a relationship, engaged, married
Income $125-250k a year
Audience 35,000
I've targeted fishing in this one. I've actually done this one before and it converted well.
The Mother Load
Recently I sold a bunch of 5 night packages to the Bahamas and targeted people in Flordia.
Product – Resort In South Andros Island, Bahamas.
Price – $1144 a night, 5 nights.
Title
We just finished an exclusive review on this luxury resort in the Bahamas!
==>Link to the review.
We have an exclusive discount for doing the review. 20% off at $1144 a night!
Audience
Florida
Men & Women
Age 45-54
Interest Travel
In a relationship, married
Income $250k plus
Audience 20k
I had 11 different variations of this. I kept the age tight for testing. After 3 days, I kept the best converting ones and deleted the rest.
I would edit them to a bigger audience if I needed then… upscale.
Why do I put the price in the title? It filters out the tire kickers,  I start my targeting off small as it keeps the price down.

I'm also testing Videos. Getting someone on Fivvr to make me a catchy video of the resort. I've only had 2 successful video adverts so far. I'm going to keep working on it.
This is one of my failed deleted ones. If I don't get much engagement in the first 100 views I scrap it. I start again with another video. I get 5 made at a time.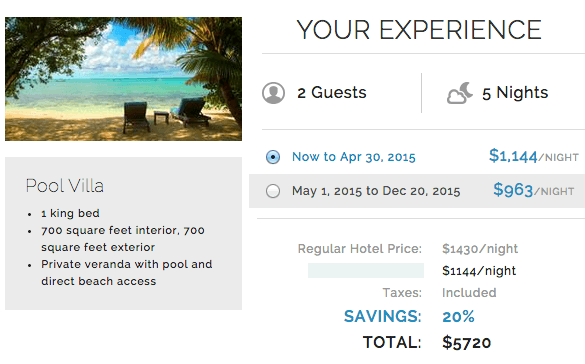 Final Words
A little research can go a long way before starting any type of marketing. Getting the best performance from your audience means you need to target people who will buy.
I learned this the hard way and wasted a lot of money when I started with Facebook. With some research and patience, I've managed to get advert engagements down low.
This works for everything, without the right audience, you won't get the right traffic. If you build a blog you still need the correct traffic right? It's a useless blog otherwise. So make sure you know who you want to target first.