I Made $550k In a Luxury Niche. I Show You How to Make Money on Facebook
At the end of 2012, I had a few failed websites and I needed a long break, grinding on the computer all day started getting to me. I took a few weeks off and went fishing with a friend.
My friend had a decent amount of money and always talked about all the things he buys.
The problem was I never thought about my target audience, I was working with small passive income niche sites hustling affiliates that had super low payouts… I made some money but not enough. I was also trying to learn how to make money on Facebook with my niches, but my targeting was way off.
After listening to my friend go on about a luxury holiday he just got back from I figured I was selling to the wrong people. He spent $4,000 on a luxury getaway and I wanted a piece of the action.
I was running 12 websites selling products for nickels and dimes when people like him are spending $4,000 on weekends away. When I got home in the new year I shut my whole operation down, out of my 12 sites about 10 of them were failing anyway so I started from scratch. Finding a niche market for two sites was easier than trying to do it for many.
I'm currently using Insight Hero to get Low CPCs on Facebook. I have mentioned this in my article on hidden Facebook keywords.
What I'm Going To Cover
What Niche I'm making the most from

How I used Facebook to make money

Examples of my Facebook targeting 

What I'm selling in my niche

How I got traffic

How I made over 500k in 24 months
The Process
I had a plan in my head and I sat down for days brainstorming, this is what I ended up with. First I thought of the niches I wanted to tap into and I went with fitness and luxury.
Next step was to find some affiliates, for fitness I settled on selling high-end treadmills from Amazon and for luxury I found a website selling resort packages with a 4-6% commission.
I then did some keyword research, but only a small list per site, I did more extensive research as the sites grew.
I wanted to build the luxury website first, I still wasn't 100% sure on the treadmill one at this point. When It came to building the luxury site I learned the basics of creating a blog.
I did reviews on holiday packages, resorts, and luxury items. I would send my writer a hotel package then he would write about it, adding the affiliate links I would then post it on the website. I adding high-end products like $500 a night hotels with extras like golf packages and beauty spas.
At this point, I had a nice blog with 20 articles but no traffic. I started with on page SEO and some manual backlinking for my relatively easy long tail keywords. I let it sit for a while, let the link juice do its work.
My next project was the treadmill website, I made a review blog about them just like the other website but gave it more of a shop feel where people could buy the product right from the page. I focused on treadmills over $1000.
I would often review lower price ones to give the buyers a feeling of a good deal.
When someone sees a review for a $300 treadmill they naturally think it's a good deal considering the website is full of $1000+ items.
The treadmill website was the same process, get it up and running add some articles then work on some basic SEO.
Now that all this was out of the way I could work on more articles. I outsourced them for the fact that I needed 1-2 a day per site, I was busy planning other things so it was the best option for me. I had to do a lot of tweaking in the articles though to make them sound more natural.
From February to April I worked on articles and backlinking, I was starting to see good improvements in my rankings but no sales yet, As I started to come into May I wanted to try something new, I didn't want to rely on SEO for traffic.
FREE TRAINING: Click here to get your 3 day video training session that shows you how to build an Online Business from scratch!!
Using Facebook for Specific Targeting
I started to place adverts on Facebook, you can really narrow down that audience. Below is a general idea of how I would do it.
Location: Colorado
Age: 32-50
Interest: Travel
Relationship status: Married
Income: 150k-250k
Homeownership: Owners
Final audience: 5-7K
Title: "Need a weekend away in beautiful Orchard Lake? Save 40% on this stunning resort."
Note this is just an example, you will hit that 7k fast if you upscale so you would have to change things like Relationship status, age and income when upscaling. I usually work with a smaller audience when getting started. It was keeping CPC and Post Engagement down to a good rate when testing. 

I would later change it once I knew I had a winning advert. I've also had great success with multiple small audiences. A lot of testing comes into play.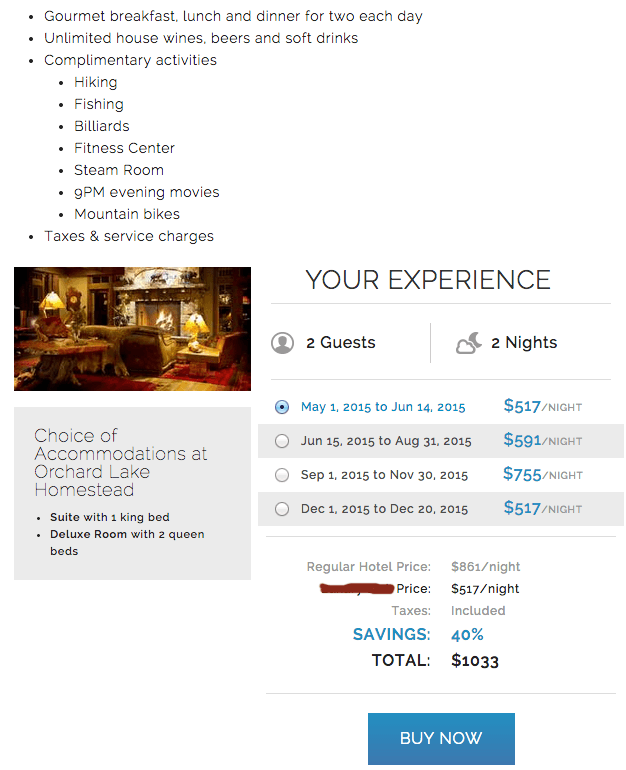 The Numbers
Let's crunch some numbers. Say we have large Audience and 30 of them end up buying 2 nights for the weekend at $517 a night.
$31,020.00
Commission 6%
Total commission $1861.19
Total spend on ads $450
Total $1,411.19
At $450 for the Facebook ad's you will reach the total audience fast if it's small, you can change it to a more broad audience when upscaling.
This is just an example, imagine if you have 5 successful ads going at once…..$$$$$… not to mention the clicks to the website, this drives a lot of traffic to the blog.
What Ads to Keep and What to Delete
When I start placing my ads I do 5 at once, 1 for every location I choose. I put them up at $3 a day and let them run for about 4 days, If I don't get buyers ill change the locations or just get rid of them and start again.
Most of the time 1 or 2 will have some sales on the 4th day. I upscale them to $30-$100 a day until sales start to slow down then ill start all over again. How much I spend per day also depends on the total audience.
Fitness Niche
Back to the treadmills, I approached this site a little different and sales were slow at first. I nearly gave up on this idea but then I started posting on forums and sending off e-mails to gyms.
I would post on forums and build up a reputation that started to bring in sales. The sales from the forums were minimal so I worked on some more SEO and starting to get more rankings bringing in some more sales.
I wasn't overall happy with the sales from this website so I tried something new. I started to e-mail gyms and companies who bought treadmills on a commercial level, the sales started to roll in. I would send 35-50 e-mails a week getting me 3 or 4 medium to large sales.
Stats
Below are some stats, you can see how much I was making off the treadmill compared to the luxury items.
Anything above the orange are treadmill sales and please note this was for 2013/14 it says 2014 because my fiscal year finished in March 2014.
As you can see I sold more treadmills in February, most of them from big companies stocking up after the new year's resolution rush to get in shape. I also made a lot more from luxury because my website got a mention on a large travel website.
Luxury items are still my dominating sellers, people like to feel and look good. For the rest of 2014 I ended up spending less time on the treadmill site, it takes too much time to run but I still make a little bit of it.
I've now started a 3rd website revolving around luxury items using the same tactics as above. I'll be earning more money with Facebook as time goes on.
Total sales = total commissions. I use 3rd party programs for my bookkeeping.

Let's look at the total profit from May 2013 to March 2015.
Total commissions: $550,915.45

Outgoings like ads and

hosting etc: (estimate on total) 23% $126,710.55
Income: $424,204.09 in just under 2 years
Tax on income: $118,777.14
Total profit: $305,426.95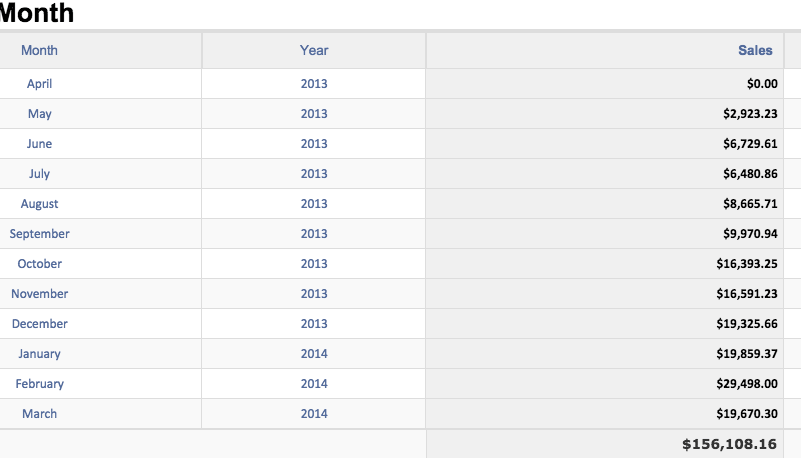 Below you can see commissions are up and down. Some months I put in more effort than others.

I'm at the point where I don't need much Facebook advertising anymore, I've built up some large pages from the adverts and I get regular organic traffic now. My income isn't just from luxury resorts I promote a lot of luxury items, the resorts is just one of them. 
Conclusion
I believe in free information, I believe if you want to share your success tip's then shared them for free or keep them to yourself.
This is my main income and I want to help other people with their journey online. In 1995, only 1% of the world's population was online now in 2014 it's 40%… big money to be made.
I've just outlined two simple ways to make money. Build a website around luxury resorts, writing good articles that draw people into buying. You can even create a simple landing page and target people for bulk orders, writing reviews about the products. 
I'm happy to answer any questions you have. 
Just quickly before I finish off. This is an example of the deals I get sent from my affiliate manager.